Corey Robinson liked the energy from the KU coaches
One of the top areas of focus for the Kansas staff was offensive line. On Tuesday afternoon Corey Robinson became the fourth commitment added to the board on the offensive line.
Robinson, a 6-foot-5, 275 pound prospect from Roswell, Ga., called the coaches and gave them a verbal commitment.
"I was sitting at the table with my dad and I called Coach Eargle to let him know that Kansas is the place I want to be," Robinson said. "He was really excited, and he went and got Coach Miles and he was really excited as well. They told the rest of the coaching staff and I could hear everybody cheering in the background. It was a really cool experience."
The Jayhawks offered Robinson last week after watching his game film and things took off from there. Eargle was the lead recruiter and Robinson liked the message he relayed during the recruiting.
"He told me they are going to grind and work hard to be successful," Robinson said of Eargle "He believes that I would be a good piece to add to what they're trying to do. I liked his energy a lot. He told me right off the bat he liked my film and the way I play."
Robinson is having a great senior season. He didn't allow a sack until the eighth game of the year from his left tackle spot.
Left tackles get noticed because if their pass-blocking, but it was his demeanor and passion that caught Eargle's attention.
"He said he likes that I play nasty," Robinson said. "I play hard, and I finish every block. I try and put everybody into the ground, no matter what's going on the field. He said he could tell I play with passion and have a true love for the game. He's seen also how I put on weight from season to season, and he can see a lot of potential."
Robinson had offers from college teams in the Top 25 and could have stayed closer to home. He liked the vibe he got from the Kansas staff and that was a big reason he committed.
"I spoke to the coaches and I could feel their energy and I can see the direction they're trying to go in," he said. "I believe their program is something that I would want to be a part of what's going on and what's coming. The main thing was speaking to their coaches."
Kansas was the first Power Five offer for Robinson and giving his commitment to a school playing at that level is something he was trying to accomplish.
"It feels good, and it feels right," he said. "It's been a long time coming with hard work when nobody was there or watching. It is finally starting to pay off. I feel like I've earned it and it is very exciting."
Get Jayhawk Slant for $75.00 and get your money back with Adidas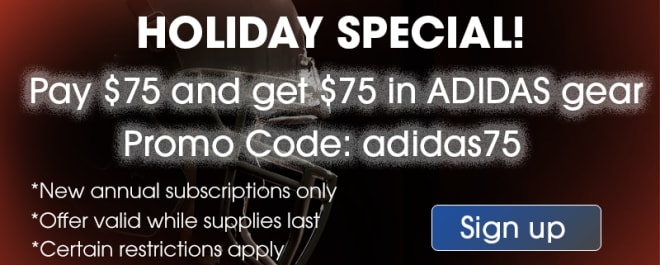 Check out the latest Holiday Special promo. Sign up for Jayhawk Slant for an annual subscription for just $75.00 and get your money with a $75.00 Adidas gift card.
Join thousands of Jayhawk fans on our KU-only message boards. Stay up-to-date on recruiting, team coverage, analysis, press conferences, player interviews, and much more.
To take advantage of this limted-time offer CLICK HERE
NOTE: You must ENTER the code Adidas75
The gift cards can be redeemed online or in stores.