Jason Bean talks about decision to pick Kansas
The Kansas coaching staff and Emmett Jones aren't slowing down on the recruiting trail. On Friday Jason Bean announced he was transferring from North Texas to Kansas.
Bean, a quarterback, redshirted in 2018 and played in 2019 and 2020, which would make him still a sophomore after not losing a year of eligibility due to Covid.
After playing in eight games at North Texas last year he is excited to get a new start at Kansas. Bean told Jayhawk Slant, that interim head coach Emmett Jones was a big reason for picking Kansas.
"It's an exciting time for me," Bean said. "I'm excited about the future for me at KU. I'm excited for KU. The main factor was Coach Jones. The way he has handled the situation has been amazing. He's up front told me what it is, and I liked what I heard from him and the staff."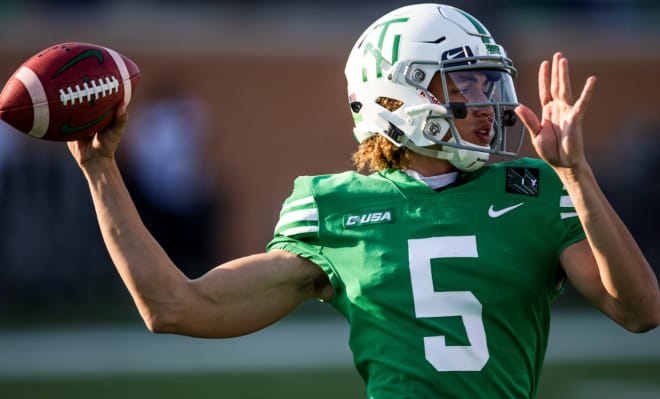 Bean, who played his high school football at Lake Ridge, threw for 4500 yards his final two seasons and rushed for 1200 yards. He went back to Jones as the major factor for making his decision.
"He played the biggest role into me making the decision," Bean said. "He wants to win the right way and I'm all for it. I'm excited to get to work with him."
At North Texas last season, he threw for 1131 yards and 14 touchdowns in eight games. He also rushed for 345 yards. His best performance came against Middle Tennessee State throwing for 181 yards and rushing for 169 yards. He was named the Conference USA Player of the Week.
"I feel my strength is my speed, but I can also throw the ball pretty good," Bean said. "I've got a lot to work on. I'm excited about the future."
Bean said he expects to arrive in the summer and will be eligible immediately.
"I'm very excited," he said. "Kansas is a big school and I look forward to getting there and getting to work. This is a unique opportunity for me being that I came from a smaller school. I'm excited about the competition and playing other schools."