O.J. Burroughs preparing to enroll early at Kansas
Omar Burroughs and IMG Academy have one game left in their season as they try to wrap up an undefeated season and the top spot in the national rankings.
Burroughs, who goes by O.J., is the starting safety for the top high school program in the country. He gave his commitment to Kansas in the summer and is close to arriving on campus.
He will graduate early and be in Lawrence in January.
"I'm ecstatic about getting there early because it's a good opportunity for me," Burroughs said. "I'm ready, day one, to come in and work."
IMG has been blowing away the competition this season. Their closest game was a 41-14 win over Duncanville and Burroughs leads the team in interceptions.
"I feel I've like played great this year," he said. "I feel like I made a lot of good plays. I'm becoming a better teammate this year. We're just focused on winning a national championship. That's the ultimate goal."
IMG will wrap up its season on November 20 against TRU Prep Academy on the ESPN network.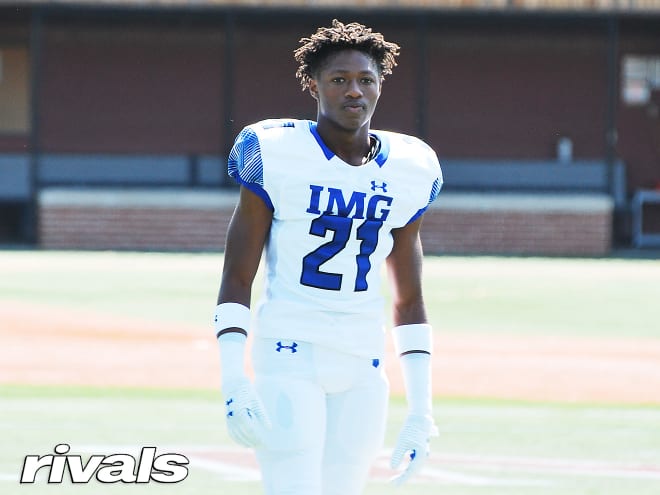 Throughout the season, Burroughs has been talking with several coaches on the Kansas staff. Burroughs knows the coaches have been playing a lot of young players and he's looking for to competing.
"I have been in touch with Coach Miles, Coach Peterson, Coach Jackson, and Coach Eliot," he said. "They always check on me and make sure I'm doing all right. We talked about life and football. I talk to Coach Peterson a lot. He said he wants me to contribute and I need to be ready to go in and work."
Burroughs is expected to play safety for the Jayhawks, which is the same position he plays at IMG Academy.
"I'm at my best when I'm in the middle of the field," he said. "I'm fast and I make plays. That's where I see myself in the middle of the field making plays every Saturday."
Another advantage Burroughs has coming from IMG Academy is the preparation and competition he gets before heading off to college. For instance, in practice he goes against wide receivers who are committed to Alabama and Florida State.
"It helped me grow in a lot of ways," Burroughs said. "I'm going against the top players every day in practice, so it made me better."
Burroughs is also looking forward to joining his good friend Devonte Wilson in the secondary. The two used to train together and got close after that. They talked about playing on the same team together and will get that opportunity at Kansas.
"It's great because we come from the same city, so we are going to ball together," Burroughs said. "We're going to go to Kansas and make a lot of plays together."