Player Profile: Velton Gardner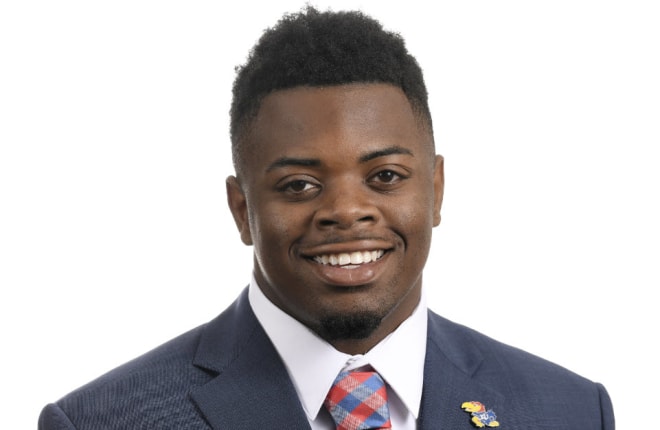 #18- Velton Gardner
Position: Running back
Height: 5-9
Weight: 190
Class: Sophomore
Hometown: Dallas, TX
High School: Skyline
2019 (Fr.): Indiana State: Saw action in the season opener in his Jayhawk debut … Recorded two receptions for three yards … Coastal Carolina: Caught one pass from quarterback Carter Stanley for a total of two yards … at TCU: Had a breakout day at running back for the Jayhawks against the Horned Frogs … Carried the ball four times for a total of 61 yards, with a long rush of 45 yards and one touchdown … Also caught one pass for a gain of 11 yards, a new career-long reception … Oklahoma: Gained five yards on three carries, with a long of four yards, against the Sooners … at Texas: Carried the ball once vs. the Longhorns … Matched his season and career high with two receptions … Totaled eight yards through the air on the evening, with a long catch of five yards …Texas Tech: Made the first start of his collegiate career at running back … Scored his second rushing touchdown of the season … Rushed the ball a total of three times for 36 yards, with a long rush of 32 yards, which he carried into the end zone … Recorded his first tackle as a Jayhawk against the Red Raiders in KU's Homecoming victory … Kansas State: Gained 16 yards on three carries, with a long rush of 10 yards, against the Wildcats …at Oklahoma State:Ran the ball three times for the Jayhawks while in Stillwater … Gained a total of 10 yards against the nationally ranked Cowboys, with a long rush of six yards … at Iowa State: Carried the ball five times for KU in Ames, a new season and career high … Baylor: Gained six net yards on four carries against the Bears … Also made a solo tackle on the afternoon, tying his season and career highs.
High School: Rated a three-star recruit by Rivals.com … Played for head coach Herman Johnson at Skyline HS … As a senior, completed 65.1 percent of his passes for 2,459 yards and 26 touchdowns, while leading the team with 842 rushing yards and 14 scores … Named Offensive Most Valuable Player of the Blue-Grey All-American Bowl … Had over 3,000 total yards with 30 touchdowns his junior season … Rated No. 31 in the Dallas Morning News Top 100 rankings … Also lettered in track & field.
Personal: Son of Beatrice Ashley … Plans to major in sport management … Chose Kansas over offers from Texas Tech, Kansas State, Syracuse, Houston, Colorado and others.