Quaydarius Davis breaks down commitment to Kansas
Quaydarius Davis becomes one of the most decorated recruits to ever commit to Kansas. If Davis signs with the Jayhawks in February, he will be the highest-rated recruit to land in Lawrence.
On Saturday Davis told the Kansas coaches he was giving them his verbal commitment.
"They were very excited when I told them," Davis said. "I talked to Coach Miles and Coach Jones and they were both excited. They wanted me to be part of the program. I'm looking forward to being part of something new and helping them win."
Emmett Jones is one of the big reasons Davis decided on Kansas. Davis attends Dallas Skyline and that is where Jones used to coach before taking a job at Texas Tech.
"Let me tell you about Coach Jones, me and Coach Jones have known each other since I was a freshman," Davis said. "Coach Jones is from Skyline and has coached here before. So, there is a big connection between me and Coach Jones.
"He put guys in the league. So, he's a great coach. Great guy, man. I have been rocking with him for a long time."
There was also another connection between the two dating back to the Skyline days when Jones coached Davis' uncle, Anthony Davis.
"He (uncle) said Coach Jones is always going to keep it real," Davis said. "He's a real coach. He's going to tell you what's right and what's wrong. He always going to coach you to be great. He's going to coach you like you need to be coached."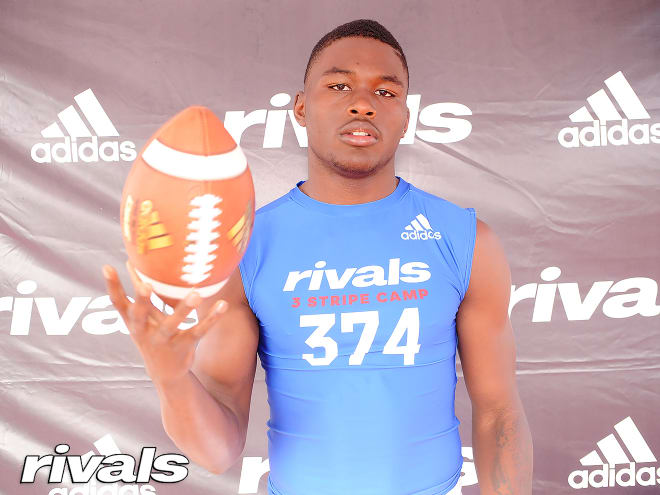 Davis has picked up offers from Alabama, Florida, Texas A&M, USC, Texas, and Oregon among several others throughout the recruiting process. Davis said picking a school will come down to trusting the coaching staff and that's one thing Kansas has on their side.
And there is also a familiarity knowing players from Dallas currently playing at Kansas. Velton Gardner was the quarterback at Skyline when Davis was a sophomore. He talks with Gardner often and recently spent time with him over the holiday break.
"Me and Velton are close," Davis said. "I was just with him last week. He was my quarterback in high school. Velton's a great guy. He tells me a lot about them Jayhawks."
Davis said he also knows Steven Parker, a former four-star recruit from South Oak Cliff who is playing outside linebacker for Kansas. Before making his decision, he also talked with his family.
"I talked about it with my family," he said. "I have known Coach Jones for a while. He told me I could be a legend. So, I just want to go there and bring in the dog in me. I want to go in there and turn it around. I think it can be special up there."
Davis has been committed to USC and Texas, so he hopes to have his future home locked in with Kansas. There is a month to go before the early signing period and Davis feels good about his commitment.
"It feels great," he said. "I feel really good right now. I know some players who are up there right now, and they say good things. I've known Velton a long time and he likes it. I know Steven Parker. Coach Jones told me I'd be one of the highest-ranked recruits to go there."
In the latest Rivals.com rankings Davis rated the fifth best wide receiver in the country. He is ranked the 36th overall prospect at all positions. That is the highest of any recruit since Rivals.com started tracking in 1999.
Get Jayhawk Slant for just $24.00- Offer expires in 24 hours
This is one of out best offers we've ever had. You can get Jayhawk Slant for just $24.00.
This offer will expire in 24 hours. To see the details and take advantage click here