Several players in 2016 class already making an impact
Several players in the 2016 class are already on campus and got a head start in contributing to the Kansas program.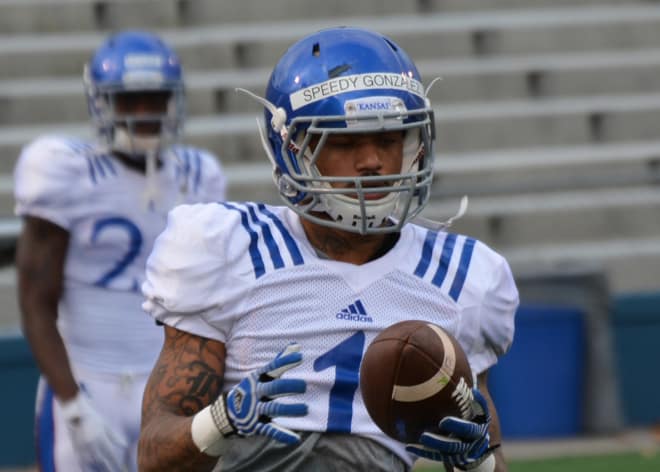 The Jayhawks are less than 24 hours away from inking their 2016 class. When it is all said and done they will likely announce around 15-16 players officially on Wednesday. But their work started on the class a year early.
David Beaty and his staff were active once they took the job and knew they had to bolster the roster quicker than expected. They already have several key players in the program who won't show up in recruiting rankings or signing day lists.
The Rivals.com rankings or commitment list doesn't allow players that don't sign their letter of intent to be counted in the class.
Here is a list of players on scholarship for the 2016 class already in the program:
LaQuvionte Gonzalez- WR- Was a four-star prospect when he signed with Texas A&M. He was a member of the Rivals.com Top 250 and one of the top 30 recruits in Texas. As a freshman at Texas A&M he caught 25 passes for 220 yards. He is expected to compete immediately for the Jayhawks as a receiver and return specialist.
Marcquis Roberts- LB- Roberts was the nation's 22nd ranked linebacker coming out of high school and signed with South Carolina. Before transferring to Kansas he started 14 games in two years for the Gamecocks. In his first year for the Jayhawks he finished third on the team with 71 tackles.
Larry Hughes- OT- Hughes arrived in Lawrence last summer after turning down scholarship offers to New Mexico and North Texas. He was a first team, all district selection at Carrollton High in Texas. At 6-foot-7, 280 pounds he developed quickly and started six games for the Jayhawks as a true freshman at right tackle.
Kendall Duckworth- LB- Coming out Lely High in Naples, FL he was an all-county and third team all-state selection. As a high school senior he recorded 81 tackles and picked up an early offer from Michigan State. Duckworth was a late qualifier and arrived in Lawrence in August. As a true freshman he played in seven games for the Jayhawks.
Cory King- DT- Was an all-county selection before signing with the University of Miami. As a high school senior he played in the South Florida All-Star game. He played in 18 games at Miami before transferring to Kansas. Last year for Kansas he started in nine games at defensive tackle and recorded 23 tackles.
Cameron Durley- OT- Durley just arrived on campus in January. Ay 6-foot-6, 290 pounds he has the size to step in and compete this spring at the offensive tackle position. Durley transferred to Houston Christian from Tilton, N.H. where his main sport was basketball. Durley quickly attracted the attention of college recruiters getting offers from Kansas, TCU, San Diego State, and Temple.
Shola Ayinde-CB- Ayinde arrived on campus last month. As a senior at George Ranch H.S. (Tex.) he was a member of the Houston Chronicle Top 100. He helped his team to the state quarter-finals and a 12-2 record. He had offers from Kansas, New Mexico, Tulsa, UTEP, and Utah State.