Yenser likes physical improvement with OL
One luxury Zach Yenser has after one year as the Jayhawks offensive line coach is flexibility with his line-up. Whether it has been injuries or by design he has been able to shift players around to fill positions when needed.
This spring one of the biggest moves was D'Andre Banks from right guard to right tackle. When last year's starting right tackle Larry Hughes was injured for parts of spring practice Banks quickly caught on to the tackle position.
"D'Andre is like a different person and he looks comfortable out at tackle," Yenser said. "Larry kind of got banged up and we had to move Banks out to tackle. What helped us do that is shifting guys around who have improved."
When Banks moved to the outside it opened up a spot on the interior. That's where senior Jayson Rhodes stepped in and could move into fall camp with a slight edge at guard. Rhodes and Banks were both junior college recruits from Texas in Beaty's first class.
Yenser likes what he saw from Rhodes in the spring and believes Banks could be the Jayhawks best lineman.
"Rhodes is by far the most improved player from the spring and it's not even close," Yenser said. "He has come in and been able to play guard and that has allowed Banks, who was probably our best offensive lineman, go out to play tackle. Banks is probably the most confident and strongest, but he is also the oldest one."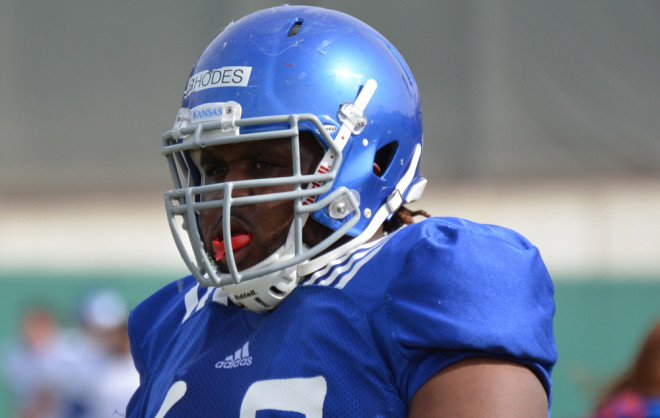 The strength and conditioning program is going to be a big key for the Jayhawks in the off season. They are about to begin their summer program and will continue up until fall camp. What the accomplished in the off season has Yenser feeling good going into the summer months.
Left tackle Clyde McCauley and right tackle Larry Hughes haven't been in the program for a full year. They have already made big gains working with Je'Ney Jackson and his staff.
"The last three to four months with coach Jackson has made a big difference and these guys are putting on weight and getting stronger," Yenser said. "I know all of you guys have seen Larry and Clyde. And a lot of our other guys have put on good weight."
Yenser also pointed to walk on Mesa Ribordy who arrived at 250 pounds and is tipping the scales at 295. Ribordy is challenging Joe Gibson at the center position.
"You have heard me say this before but I truly believe besides experience for an offensive lineman you have to be strong.," Yenser said. "It allows you to play confident, recover better, and that is such a huge aspect of playing up front. You move better, you bend better, and stay lower longer. The stronger you are the lower you can stay.
"The confidence part of it knowing you are strong and knowing you aren't going to get your butt kicked is also a huge part of it."